Bird Diversity in Fruit Gardens in Bang Nang Li Sub-district, Amphawa District, Samut Songkram Province
Keywords:
Samut Songkram Province, Fruit gardens, Bird diversity
Abstract
This research is quantitative and qualitative explorative research. The purposes of this research was 1) to study bird species, feeding behavior, abundance and status in study area 2) to study activities in utilization of birds in the study site. The data was
obtained by interviewing the owners of fruit gardens and field surveys of bird species,activities of birds in habitat utilization in three kinds of organic fruit gardens namely; lychee garden, coconut garden, and pomelo garden in Bang Nang Li Sub-district,
Amphawa District, Samut Songkram Province from October 2012 – September 2013. The result of bird survey in 3 gardens found 31 families and 61 species of birds. 52 bird species were found the most in organic pomelo gardens. In feeding habitats, insectivorous,
piscivorous, granivorous, nectrivorous birds and aquatic invertebrate feeding birds were found. Abundance level of birds in organic fruit gardens was at level 5. 23 bird species were frequently found. 43 bird species were found in November because migratory birds
came to utilize the study site. According to the status of bird species, 48 resident bird species, 6 resident and 7 migrant bird species were found in organic fruit gardens. The birds' activities in fruit gardens were feeding and nesting.
References
Lekagul, Boonsong & P.D. Round. 1991. A guide to the Birds of Thailand. Saha Karn Bhaet Co, Ltd., Bangkok. 457 pp.
Office of Natural Resources and Environmental Policy and Planning. 1997. National policyand plan for sustainable development of
Thailand. Kasetsart University Bangkok.
Pettingill, O. S. 1950. A Laboratory and Field Manual of Ornithology. 7 ed. Burgess Publishing Company, Minnesota. 380 pp.
Phattaraphittaya, S. 1996. Variety of birds at Kamang Field, Wild Animal Protection Zone Phu Khiew, Results after release of birds into
the nature in the year 1987 and 1989 Master Degree Thesis, Graduate College, Kasetsart University. 88 pp. (in Thai).
Round, P. D. & V. Kongthong. 2009 Birds of Laem Pakbia. Amarin Printing and Publication, Nonthaburi. 288 pp.
Sukwong S., P. Dhamanitayukul & S. Pongum-phai. 1975. Phenoloy and Seasonal Growth of Dry Dipterocarp Forestry Tree Species.
Kasetsart Journal. 9: 105-114 (in Thai).
Thepkorn, W. 2010. Riverine forest: Affiliate forest of the mangrove forest, Bangkok Metropolis: Thai Romklao Co. Ltd. 47 pp. (in Thai).
Tourism Authority of Thailand. 2002. Meeting agenda of ecotourism workshop, Bangkok:Reservation Department. pp. 38-55. (in Thai).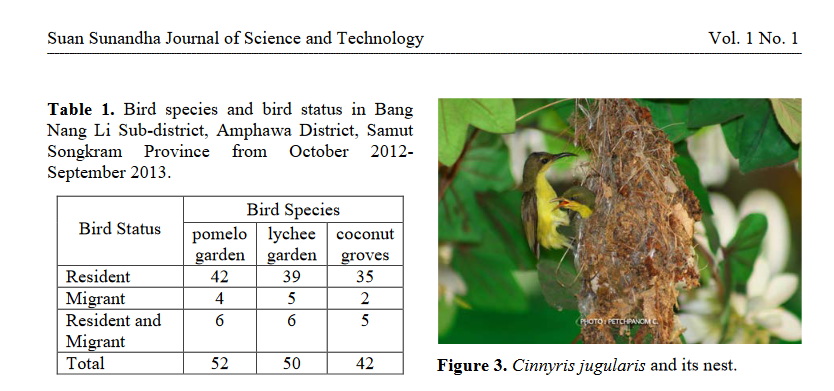 Downloads
How to Cite
Charoenpokaraj, N. . (2022). Bird Diversity in Fruit Gardens in Bang Nang Li Sub-district, Amphawa District, Samut Songkram Province. Suan Sunandha Science and Technology Journal, 1(1), 25–28. Retrieved from https://li02.tci-thaijo.org/index.php/ssstj/article/view/246
Section
Research Articles
License
This work is licensed under a Creative Commons Attribution 4.0 International License.