Assessment of Human's Attitude Towards Natural Resource Conservation in Protected Area in Thailand
Keywords:
Human attitude, Natural resources, Sustainable management, National park, Conservation
Abstract
Attitude of residing people towards a protected forest area was evaluated for sustainable use of natural resources and forest conservation in the Phu Kao–PhuPhan Kham National Park in Thailand. Their economic and social conditions were assessed in three villages of Phukao, NongBua Lamphu Province. Data were collected from 348 households (66.5%) heads or the representatives in the villages with the questionnaire. The questionnaire consisted of three parts: (i) general economic and social information (ii) social grouping and participation and (iii) attitude toward participation in conserving natural resources and tourism management in this area. To evaluate their attitude, the collected data were divided into four categories: (i) level 4 equilibrium/nature (ii) level 3 warning (iii) level 2 risk (iv) level 1 crisis for forest conservation in the protected area. Overall, their attitude towards natural resource conservation, the social grouping and the community participation was very low. However, the attitude towards ecotourism is very high. We suggest that forest conservation will be maintained by more progress of ecotourism in this area.
References
Allendorf, T. D. (2007). Residents' attitudes toward three protected areas in southwestern Nepal.Biodiversity and Conservation, 16(7), 2087-2102.
Ellis, E. C., Goldewijk, K., Siebert, S., Lightman, D., & Ramankutty, N. (2010). Anthropogenic transformation of the biomes, 1700 to 2000. Global Ecology and Biogeography, 19(5), 589-606.
Fashing, P. J., Forrestel, A., Scully, C., & Cords, M. (2004). Long-term tree population dynamics and their implications for the conservation of the Kakamega Forest, Kenya. Biodiversity & Conservation, 13(4), 753-771.
Hunter, P. (2007). The human impact on biological diversity. EMBO reports, 8(4), 316-318.
Mackenzie, C. A., Chapman, C. A., & Sengupta, R. (2012). Spatial patterns of illegal resource extraction in Kibale National Park, Uganda. Environmental conservation, 39(01), 38-50.
Myers, N., Mittermeier, R. A., Mittermeier, C. G., Da Fonseca, G. A., & Kent, J. (2000). Biodiversity hotspots for conservation priorities. Nature, 403(6772), 853-858.
Olupot, W., Barigyira, R., & Chapman, C. A. (2009). The status of anthropogenic threat at the people-park interface of Bwindi Impenetrable National Park, Uganda. Environmental conservation, 36(01), 41-50.
Pimentel, D., Harvey, C., Resosudarmo, P., Sinclair, K., Kurz, D., McNair, M., Saffouri, R. (1995). Environmental and economic costs of soil erosionand conservation benefits. Science-AAAS-Weekly Paper Edition, 267(5201), 1117-1122.
Rosegrant, M. W., & Cline, S. A. (2003). Global food security: challenges and policies. Science, 302(5652),1917-1919.
Takon, T. J., Amalu, T. E., & Okpara, D. E. (2013). Assessment of Local People's Attitude towards Natural Resource Conservation in Boki Local Government Area of Cross River State, Nigeria.Research Journal in Organizational Psychology & Educational Studies, 2(1), 60.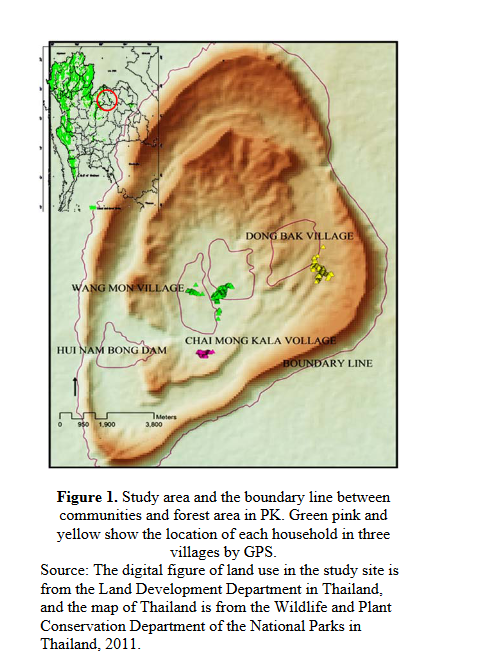 Downloads
How to Cite
Popradit, A. ., Ishida, A. ., Murayama, T. ., Srisatit, T. ., Utarasakul, T. ., Kiratiprayoon, S. ., Khun Anake, R. ., & Outtaranakorn, S. . (2022). Assessment of Human's Attitude Towards Natural Resource Conservation in Protected Area in Thailand. Suan Sunandha Science and Technology Journal, 2(2), 18–23. Retrieved from https://li02.tci-thaijo.org/index.php/ssstj/article/view/264
Section
Research Articles
License
This work is licensed under a Creative Commons Attribution 4.0 International License.