Latent fingerprints on different type of screen protective films
Keywords:
Screen protective film, Latent fingerprints, Black powder method, Anti-fingerprint coating
Abstract
The purpose of this research was to study the quality of latent fingerprint on different types of screen protective films including screen protector, matte screen protector, anti-fingerprint clear screen protector and anti-fingerprint matte screen protector by using black powder method in developing latent fingerprints. The fingerprints were performed by 10 volunteers whose fingers (right index, right thumb, left index and left thumb) were stubbing at different types of screen protective films and subsequently latent fingerprints were developed by brushing with black powder. Automated Fingerprint Identification System (AFIS) counted the numbers of
minutiae points from 320 latent fingerprints. Anti-fingerprint matte screen protective film produced the best quality of latent fingerprint with an average minutiae point 72.65, followed by matte screen protective film, clear screen protective film and anti-fingerprint clear screen protective film with an average minutiae point of 155.2, 135.0 and 72.65 respectively. The quality of latent fingerprints developed between a clear and a matte surface of screen protective films showed a significant difference (sig>0.05), whereas the coat and the non-coat with anti-fingerprint chemical revealed a non-significant difference (sig<0.05) in their number of minutiae points.
References
Adebisi, S. (2008). Fingerprint Studies - The Recent Challenges and Advancements: A Literary View, The internet Journal of
Biological Anthropology, 2(2), 1-9.
Badiye, A. & Kapoor, N. (2015). Efficacy of Robin powder blue for latent fingerprint development on various surface, Egyptian
Journal of ForensicScience, 5, 166-173.Doi:10.1016/ j.ejfs.2015.01.001.
Kenneth, M. R., Higgins, P., McCabe, M., Prabhakar, S., & Swann, S. (2011). Automated fingerprint identification system (AFIS).The
Fingerprint Sourcebook, US Dept. of Justice, Office of Justice Programs, National Institute of Justice, Washington, DC.
Low, W. Z., Khoo, B. E., Abdul, Z. B., Low, L. W., Teng, T. T. & Abdullah, A. F. L. (2015). Application of acid-modified Imperata
cylindrical powder for latent fingerprint development, Science & Justice, 55, 347-354.doi:10.1016/j.scijius.2015.04.008.
Luis, D. (2014). PET, TPU, or Tempered Glass –all you need to know to choose a screen protector, Retrieved September 15, from
Marco, H., Eichenberger, H., & Herrwerth, H. (2014). Hard and Invisible: Nanosilica Particle Technology in Solventborne, High-
Gloss, Two-Pack Pur Clearcoats for Plastics.MiChigan, Troy: Paint and coatings Industry Magazine.
Rozman, K. B., Trapacar, M., & Dobovsek, B. (2014). Fingerprint Recovery from Human Skin by Finger Powder, Journal of Forensic
Science & Criminology, 2(3), 1-4. doi:10.15744/2348-9804.1.603
Samuel S. A. (2008). Latent fingerprints – a forensic approach, J. Forensic Identification,
Volume 43,563-570.
Smith, A. (2012). Internet, Science & Tech: The impact of Mobile Phones on People's Lives,The impact of Mobile Phones on People's
Lives, Washington, DC.
Sodhi, G. S., & Kaur, J. (2001). Power method for detecting latent fingerprint: a review. Forensic science international, 120(3), 172-176.
doi:10.1016/s0379-0738(00)00465-5
Ulery, B. T., Hicklin, R. A., Roberts, M. A. &, Buscaglia, J. (2016). Interexaminer variation of minutia markup on latent
fingerprints. Forensic science international,264, 89-99. .doi:10.1016j.forscii.2016.03.014.
Wu, Y. L., Ngian, S. K., Chen, Z., & Xuan, D. T.T. (2011). Quantitative test method for evaluation of anti-fingerprint property of
coated surfaces, Applied Surface Science, 257, 2965-2969. doi:10.1016/j.apsusc.2010.10.101.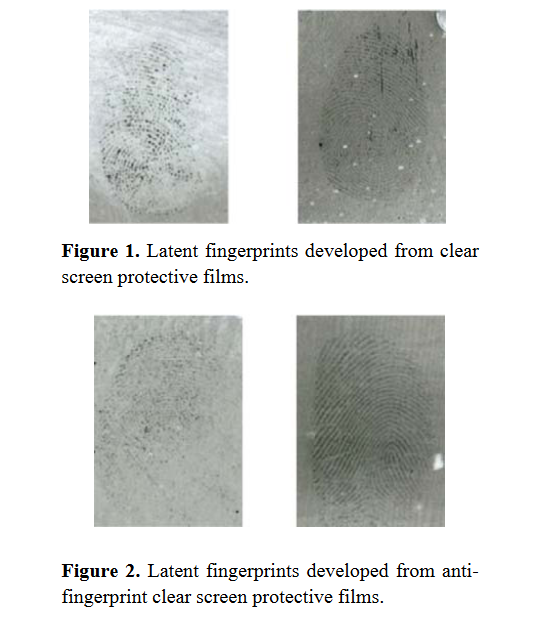 Downloads
How to Cite
Sudjaroen, Y. ., & Thongthienchai, T. . (2022). Latent fingerprints on different type of screen protective films. Suan Sunandha Science and Technology Journal, 3(2), 22–25. Retrieved from https://li02.tci-thaijo.org/index.php/ssstj/article/view/277
Section
Research Articles
License
This work is licensed under a Creative Commons Attribution 4.0 International License.