β-glucosidase enzyme screening from various parts of Tabebuia argentea
Keywords:
β–glucosidase, Tabebuia argentea, p-nitrophenyl-D-glucopyranoside
Abstract
The aim of this work was to search for the novel β–glucosidase enzyme from various parts of Tabebuia argentea; flower, flower bud, shoot, seed shank and seed. The enzyme was extracted from the samples by using appropriated buffer. The ammonium sulfate ((NH4)2SO4) salt precipitation in the different salt concentrations was used to initial fractionated purification steps. The monitoring of enzyme activity was carried out by using hydrolysis reaction of glycosidic bond using p-nitrophenyl-D-glucopyranoside (pNPG) as an enzyme substrate. The UV-vis spectroscopy was used to detect the corresponding p-nitrophenylate product under basic condition at 405 nm. The enzyme activity via pNPG hydrolysis of seeds extract was around 15-fold over the other plant part extracts of Tabebuia argentea. This was followed by selected enzyme fraction of the seeds extract subjected to optimum temperature study and temperature for the best enzyme activity was 30-40 °C. The highest enzyme activity fraction will be used for further purification and enzymatic properties test before application as a biocatalyst in biological process.
References
Andrade Pinto, J. M., De Souza, E. A., & Oliveira, D. F. (2010). Use of plant extracts in the control of common bean anthracnose. Crop Protection,
(8), 838-842. DOI:10.1016/j.cropro.2010.03.006 cassava beta-glucosidase. Biochemical and Biophysical Research Communications, 305(3),
-475.
Cheung, S. W., & Anderson, B. C., (1997). Laboratory investigation of ethanol production from municipal primary wastewater. Bioresource Technology, 59(1), 81-96.
Dharmawardhama, D. P., Ellis, B. E., & Carson, J. E. (1995). A beta-glucosidase from lodgepole pine xylem specific for the lignin precursor
coniferin. Plant Physiology, 107(2), 331-339. DOI.org/10.1016/j.biortech.2010.01.088 DOI.org/10.1016/j.procbio.2011.10.023 DOI.org/10.1016/S0960-8524 (01)00212-7 DOI.org/10.1016/S0960-8524(96)00109-5 DOI: 10.1016/j.bse.2013.12.027 DOI: 10.1016/S0168-9452(03)00235-8 DOI: 10.1042/BJ20031485
Duroux, L., Delmotte, F. M., Lancelin, J. M., Keravis, G., & Jay-Allemand, C. (1998). Insight into naphthoquinone metabolism: β-glucosidase
-catalysed hydrolysis of hydro juglone β-Dglucopyranoside. Biochemical Journal, 333, 275-283.
Gírio, F. M., Fonseca, C., Carvalheiro, F., Marques, S., & Bogel-Łukasik, R. (2010). Hemicelluloses for fuel ethanol: A review, Bioresource Technology, 101(13), 4775-4800.
Guo-Yong, X., Xiaonan, W., Binbin, Lin., Rui, W., & Minjian, Q. (2014). Stilbenoids from the seeds of Oroxylum indicum, Biochemical Systematics and Ecology, 54, 36-39.
Hari Babu, T., Manjulatha, K., Suresh Kumar, G., Hymavathi, A., Tiwari, A. K., Purohit, M., …Suresh Babu, K. (2010). Gastroprotective flavonoid constituents from Oroxylum indicum Vent. Bioorganic and Medicinal Chemistry Letters, 20(1), 117-120.
Hemamalini, K., & Sambasiva Rao, A., (2014). Anti ulcerogenic models of Sophora interrupta Solanum pubescens and Tabebuia rosea leaves
on In-vivo test model in rats. International Journal of Pharmacy and Pharmaceutical Sciences, 6(6), 520-521.
Hommalai, G., Chaiyen, P. & Svasti, J. (2005). Studies on the transglucosylation reactions of cassava and Thai rosewood beta-glucosidases
using 2-deoxy-2-fluoro-glycosyl-enzyme intermediates. Archives of Biochemistry and Biophysics, 442(1), 11-20. https://doi.org/10.1016/j.
phytochem.2008.03.006
Ketudat-Cairns, J. R., & Asim, E. (2010). β-Glucosidases. Source of the Document Cellular and Molecular Life Sciences, 67(20), 3389-3405. DOI: 10.1007/s00018-010-0399-2
Kongsaeree, P., Ratananikom, K., Choengpanya, K., Tongtubtim, N., Sujiwattanarat, P., Porncharoennop, C,…Svasti, J. (2010). Substrate specificity in hydrolysis and transglucosylation by family 1 β-glucosidases from cassava and Thai rosewood. Journal of Molecular Catalysis B: Enzymatic, 67, 257-265
Lei, C., Ning, L., & Min-Hua, Z. (2012). A glucosetolerant β-glucosidase from Prunus domestica seeds: Purification and characterization. Process
Biochemistry, 47(1), 127–132.
Morant, A. V., Jorgensen, K., Jorgensen, C., & Paquette, S. M. (2008). β-Glucosidases as detonators of plant chemical defense. Phytochemistry, 69(9), 1795-1813.
Nisius, A. (1988). The stromacentre in Avena plastids: an aggregation of β-glucosidaseresponsible for the activation of oat-leaf saponins, Planta, 173(4), 474-481.
Opassiri, R., Cairns, J. R. K., Akiyama, T., Wara-Aswapati, O., Svasti, M. R. J. & Esen, A. (2003). Characterization of a rice betaglucosidase
highly expressed in flower and germinating shoot. Plant Science. 165(3), 627-638.
Opassiri, R., Hua, Y., Wara-Aswapati, O., Akiyama, T., Svasti, S., Esen, A.,…Cairns, J. R. (2004). Beta-Glucosidase, exo-betaglucosidase, exo-beta-glucanase and pyridoxine transglucosylase activities of rice BGlu1. Biochemical Journal, 379(Pt1), 125-131. PMCID: PMC157133
Sun, Y. & Cheng, J. (2002). Hydrolysis of lignocellulosic materials for ethanol production: A review. Bioresource Technology, 83(1), 1-11.
Svasti, J., Phongsak, T. & Sarnthima, R. (2003). Transglucosylation of tertiary alcohols using
Zechel, D. L., & Wihers, S. G. (2000). Glycosidase Mechanisms: Anatomy of a Finely Tuned Catalyst. Accounts of Chemical Research, 33(1), 11-18. DOI: 10.1021/ar970172+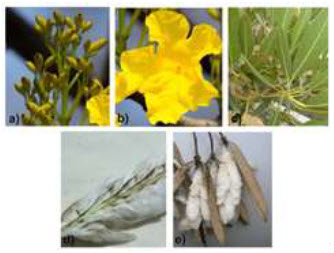 Downloads
How to Cite
Pitsanuwong, C. ., & Wechakorn, K. (2022). β-glucosidase enzyme screening from various parts of Tabebuia argentea. Suan Sunandha Science and Technology Journal, 5(2), 6–10. Retrieved from https://li02.tci-thaijo.org/index.php/ssstj/article/view/336
Section
Research Articles
License
This work is licensed under a Creative Commons Attribution 4.0 International License.