Development of High Anthocyanin Crispy Rice Bar
Keywords:
Riceberry rice, Leum Phua rice, RD6 rice, Black glutinous rice, Anthocyanin
Abstract
Nowadays, consumers are increasingly interested in healthy food. This study aimed to increase the nutritional value of crispy rice by using Thai rice which presented important natural ingredients. Five formulations were developed including Thai colored indica rice (Oryza sativa cv. Riceberry), black sticky rice (Oryza sativa cv. Leum Phua), white glutinous rice (Oryza sativa cv. RD6), RD6 soaking in water obtained from Leum Phua sticky rice, and a combination of RD6 and Leum Phua glutinous rice. Water activity, moisture content, crispness, color, total anthocyanin content, and sensory evaluation were analyzed. The results showed that there was no significant
difference in crispness and moisture content of products. The lowest free water was observed in both Riceberry and soaked RD6 formulations with water activity below 0.42. Leum Phua and Riceberry recipes had the lowest brightness. Obviously, crispy rice bar from Leum Phua sticky rice had the highest total anthocyanin content, followed by Riceberry rice. According to sensory test, the color score was high in the RD6 and soaked RD6 formulations. During the storage for 2 months, the increase of water activity and lipid peroxidation were observed. However, there was no growth of pathogenic microorganisms. The crispy rice by soaked RD6 formula was
acceptable up to 2 months of storage. Therefore, it can be concluded that the RD6 sticky rice soaking with water from black glutinous rice is suitable for commercial production because it can increase the nutritional value for consumers by providing high total anthocyanin content. 3456789
References
Angelo, A. J. St., Vercellotti, J., Jacks, T., & Legendre, M. (2009). Lipid oxidation in foods. Critical Review in Food Science and Nutrition, 36(3), 175-224. doi:10.1080/10408399609527723
AOAC. (1995). Official methods of analysis of AOAC international. In T. R. Mulvaney (Ed.), AOAC International (p. 42-1-42-2). Arlington, VA.
Boonmeejoy, J., Wichaphon, J., & Jiamyangyuen, S. (2019). Classification of rice cultivars by using chemical, physicochemical, thermal, hydration properties, and cooking quality. Food and Applied Bioscience Journal, 7(2), 42-62.
James, C.S. (1995). Analytical chemistry of food. Seale-Hayne faculty of agriculture, university of Polymouth, UK.
Khoo, H. E., Azlan, A., Tang, S. T., & Lim, S. M. (2017). Anthocyanidins and anthocyanins: colored pigments as food, pharmaceutical
ingredients, and the potential health benefits. Food and Nutrition Research, 61(1),1-22. doi:10.1080/16546628.2017.1361779
Lee, J., Durst, R. W., & Wrolstad, R. E. (2005). Determination of total monomeric anthocyanin pigment content of fruit juices, beverages, natural colorants, and wine by the pH differential method: Collaborative study. Journal of AOAC International, 88(5), 1269-1278.
Lehtinen, P. (2003). Reactivity of lipids during cereal processing (Doctoral thesis). Helsinki University of Technology. Finland.
Hiemori, M., Koh, E., & Mitchell, A. E. (2009). Influence of cooking on anthocyanins (Oryza sativa L. japonica var. SBR). Journal of Agriculture and Food Chemistry, 57(5), 1908-1914. doi: 10.1021/jf803153z.
Ngamdee, P., Bunnasart, A., & Sonda, A. (2019). Development of a functional food: milk chocolate fortified with anthocyanin from broken Riceberry. Rajabhat Journal of Sciences, Humanities & Social Sciences, 20(1), 81-89.
Oke, E. K., Idowu, M. A., Sobukola, O. P., Adeyeye, S. A. O., & Akinsola, A. O. (2017). Frying of food: a critical review. Journal
of Culinary Science & Technology, 1-21. doi:10.1080/15428052.2017.1333936
Pasakawee, K., Laokuldilok, T., Srichairatanakool, S., & Utama-ang, N. (2018). Relationship among starch digestibility, antioxidant, and physicochemical properties of several rice varieties using principal component analysis. Current Applied Science and Technology, 18(3), 1-12.
Patras, A., Brunton, N. P., Donnell, C. O., & Tiwari, B. K. (2010). Effect of thermal processing on anthocyanin stability in foods; mechanisms and kinetics of degradation. Trends in Food Science & Technology, 21(1), 3-11. doi:10.1016/j.tifs.2009.07.004
Poomipak, N., Samakradhamrongthai, R. S., Utama-ang, N. (2018). Consumer survey of selected Thai rice for elderly using focus group and acceptance test. Food and Applied Bioscience Journal, 6 (special issue on food and applied bioscience), 134-143.
Sandulachi, E. (2003). Water activity concept and its role in food preservation. In, Mrema, G. C. (Eds.), Handling and preservation of fruits and vegetables by combined methods for rural areas (pp. 40-48). Rome: Food and Agriculture Organization of the United Nations.
Settapramote, N., Laokuldilok, T., Boonyawan, D., & Utama-ang, N. (2018). Physicochemical, antioxidant activities and anthocyanin of
Riceberry rice from different locations in Thailand. Food and Applied Bioscience Journal, 6(special issue on food and applied bioscience),
-94.
Singh, R. P., & Anderson, B. A. (2004). The major type of food spoilage: An overview. In Steele, R. (Ed.), Understanding and measuring the shelf-life of food (p. 3-23). Aspen Publications, Gaithersburg, MD.
Sirichokworrakit, S. , Phetkhut, J. , & Khommoon, A. ( 2 0 1 5 ) . Effect of partial substitution of wheat flour with Riceberry flour on quality of noodles. Procedia- Social and Behavioral Sciences, 197,1006- 1012. doi:10.1016/j.sbspro.2015.07.294
Sivamaruthi, B. S., Kesika, P., & Chaiyasut, C. Anthocyanins in Thai rice varieties: distribution and pharmacological significance. International Food Research Journal, 25(5), 2042-2032.
Surh, J., & Koh, E. (2014). Effects of four different cooking methods on anthocyanins, total phenolics and antioxidant activity of black
rice. Journal of the Science of Food and Agriculture, 94(15), 1-9. doi: 10.1002/jsfa.6690
Suwannalert, P., & Rattanachitthawat, S. (2011). High levels of phytophenolics and antioxidant activities in Oryza sativaunpolished Thai rice strain of Leum Phua. Tropical Journal of Phamaceutical Research, 10(4), 431-436. doi:10.4314/tjpr.v10i4.8
Thaweeseang, N., Katakul, S., Sreela-or, C. (2017). Product development of nutritious cereal bar. Rajamangala University of Technology Srivijaya Research Journal, 9(2), 212-223.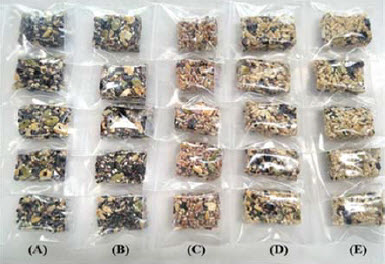 Downloads
How to Cite
Lainumngen, N. ., Saengprakai, J. ., Tanjor, S. ., Phanpho, W. ., & Phodsoongnoen, A. . (2022). Development of High Anthocyanin Crispy Rice Bar. Suan Sunandha Science and Technology Journal, 7(1), 34–42. Retrieved from https://li02.tci-thaijo.org/index.php/ssstj/article/view/361
Section
Research Articles
License
This work is licensed under a Creative Commons Attribution 4.0 International License.