Effects of Dried Sano (Sesbania javanica Miq.) Flowers Powder on the Quality of Thai Sponge Cake
Keywords:
Thai sponge cake, Dried Sano flowers powder, Carotenoids
Abstract
The aim of this study was to investigate the physical, nutritional values and sensory evaluation of Thai sponge cake added with different levels of dried Sano flowers powder (DSFP) as a source of carotenoids. DSFP was prepared and analyzed for total carotenoids. DSFP contained lutein, zeaxanthin and β-carotene around 29,947.94, 620.03 and 1,555.98 μg in 100 g of dry sample, respectively. The sensory liking scores were determined to be suitable to produce Thai sponge cake. Results showed that, Thai sponge cake recipe consisted of 240 g of duck eggs, 180 g of chicken eggs, 180 g of cake flour, 360 g of granulated sugar. The effects of the addition with
different levels of DSFP (20, 40 and 60 %w/w) of Thai sponge cake was studied. An increase of the DSFP decreased of lightness (L*), redness (a*) value, springiness, and chewiness while yellowness (b*) value, hardness, cohesiveness, and gumminess were increased. The sensory evaluation showed that all treatments obtained the overall liking score of 6.14-6.86. The study clearly showed that the levels of 20% w/w DSFP could be a desirable amount to produce the healthy Thai sponge cake with good enough appearance, odour, taste, texture, with an overall liking score of more than 6.00 that is considered as acceptable. The developed Thai sponge cake contained protein, fat, dietary fiber, ash, moisture, and carbohydrates 9.45, 5.23, 2.64, 1.16, 33.94 and 52.42 g in 100 g respectively, and 319.10 μg/100 g β-carotene 319.10 μg/100 g. The developed product supplemented with DSFP would be a guideline to
increase the health and quality of cake products.
References
AOAC. ( 2019) . Official Methods of Analysis of AOAC International (21st ed.). Rockville, USA: Association of Official Analytical Chemists.
Chaiya, B., & Pongsawatmanit, R. (2011). Quality of batter and sponge cake prepared from wheat-tapioca flour blends. Kasetsart Journal
(Natural Sciences), 45(2), 305-313.
Chaemmek, C., & Naiwikul, O. (2011). Basic baking technology. Bangkok: Kasetsart University Press.
Chakkij, W. ( 2016) . Butter cookies with sesbania flower. Faculty of Home Economics Technology, Rajamangala University of
Technology Thanyaburi.
Jonglertjesdawong, Y. (2000, September-October).Wheat flour products. Food News & Life Magazine, 5, 54-57.
Kampangkaew, S., Thongpin, C., & Santawtee, O.(2014). The synthesis of cellulose nanofibers from Sesbania javanica for filler in
thermoplastic starch. Energy Procedia, 56, 318-325. doi:10.1016/j.egypro.2014.07.163
Khumkhom, S. ( 2018) . Effect of additional dried Sesbania ( Sesbania javanica Miq. ) flowers powder on physical, nutritional and
organoleptic characteristics of butter cookies.Phranakhon Rajabhat Research Journal: Science and Technology, 13(1), 139-154.
Kijparkorn, S. , Plaimast, H. , & Wangsoonoen, S.(2010). Sano (Sesbania javanica Miq.) flower as a pigment source in egg yolk of laying hens.
The Thai Journal of Veterinary Medicine,40(3), 281-287.
Manantaphong, K., Songpranam, P., & Dang, K. O.(2011). Development of bread products adding lotus stamens. Faculty of Home Economics
Technology, Rajamangala University of Technology Thanyaburi.
Martins, Z. E., Pinho, O., & Ferreira, I. M. P. L. V. O.(2017) . Food industry by- products used as functional ingredients of bakery
products. Trends in Food Science & Technology, 67, 106-128.doi:10.1016/j.tifs.2017.07.003
Meilgaard, M. C., Civille, G. V, & Carr, B. T. (1999).Sensory evaluation techniques (3rd ed). Boca Raton: CRC Press.
Miller, R. (2016). Cakes: Types of cakes.doi:10.1016/B978-0-12-384947-2.00100-8
Mudgil, D., Barak, S., & Khatkar, B. S. (2017). Cookie texture, spread ratio and sensory acceptability of cookies as a function of soluble dietary fiber,baking time and different water levels.LWT, 80, 537-542.doi:10.1016/j.lwt.2017.03.009
Murkovic, M., Mülleder, U., & Neunteufl, H. (2002). Carotenoid content in different varieties of pumpkins. Journal of Food Composition and
Analysis, 15(6), 633-638.doi:10.1006/jfca.2002.1052
Ngamwonglumlert, L. , & Devahastin, S. ( 2019) .Encyclopedia of Food Chemistry.doi:10.1016/B978-0-08-100596-5.21608-9
Ordóñez- Santos, L. E. , Esparza- Estrada, J. , & Vanegas- Mahecha, P. ( 2021) . Ultrasound-assisted extraction of total carotenoids from
mandarin epicarp and application as natural colorant in bakery products. LWT, 139.doi:10.1016/j.lwt.2020.110598
Palozza, P. , Muzzalupo, R. , Trombino S. ,Valdannini, A., & Picci N. (2006). Solubilization and stabilization of β- carotene in niosomes:
Delivery to cultured cell. Chemistry and Physics of Lipids, 139, 32-42.
Panichakornkul, W. ( 2016) . Effects of drying temperatures on quality of dried Sesbania flowers ( Sesbania javacica Miq) and it' s
application in bread. VRU Research and Development Journal Science and Technology,11(1), 47-55.
Sanphom, T., & Weenuttranon, J. (2018). Product development of flour roll cracker (Thong-moun) supplemented with calcium from Tilapia
nilotica fish bone powder. International Journal of Advances in Science, Engineering and Technology, 6(2), 45-49.
Siriwong, R. ( 2009) . Thai desserts. Bangkok:Duangkamol Publishing.
Speek, A. J., Temalilwa, C. R., & Schrijver, J. (1986).Determination of β- carotene content and vitamin A activity of vegetables by high-
performance liquid chromatography and spectrophotometry. Food Chemistry, 19(1), 65-74.
Suban, C. (1989). Small Thai dessert. Bangkok: Amon Products Company.
Wongpaisanrit, R. ( 2010) . Thai desserts in the ceremony. Bangkok: Aksorn Dee.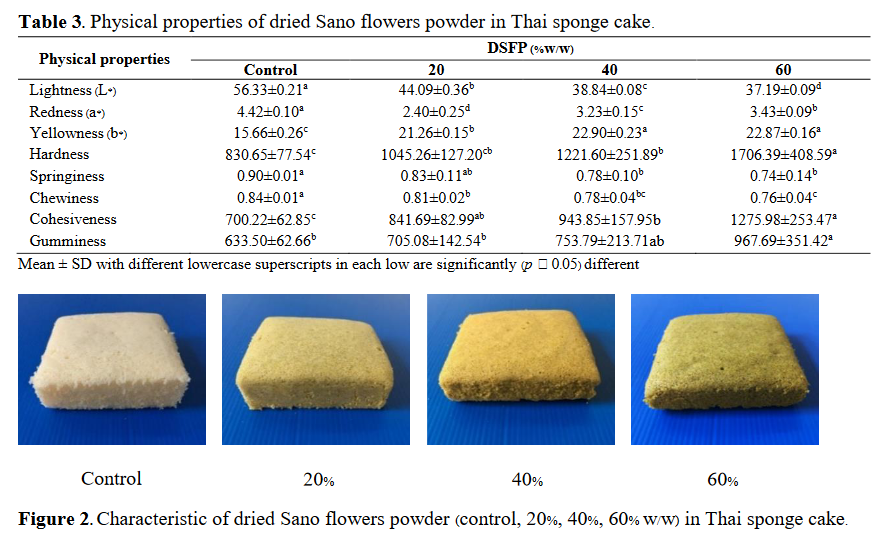 Downloads
How to Cite
Weenuttranon, J. ., Hirunyophat, P. ., Fuengkajhornfung, N., & Sanphom, T. . (2022). Effects of Dried Sano (Sesbania javanica Miq.) Flowers Powder on the Quality of Thai Sponge Cake. Suan Sunandha Science and Technology Journal, 10(1), 9–14. https://doi.org/10.53848/ssstj.v10i1.409
Section
Research Articles
License
This work is licensed under a Creative Commons Attribution 4.0 International License.