Motorcycle Speed Calculation while Driving with an Animation from a Smartphone
Keywords:
Frame rate, Motorcycle, Velocity, Speed calculation
Abstract
This research adapts basic technologies to develop a method for determining motorcycle velocity that may be used as evidence against those who exceed the speed limit in areas lacking speed detection devices. The speed was measured on Samsen roads in Bangkok, at Google Earth locations (1346'33.51"N 10030'25.96"E). The speeds of 40, 60, and 80 kilometers per hour were measured and recorded using two smartphones and placed in points A and B in two reference locations. The videos were then converted to image files to count the number of frames and time traveled on the motorcycle and estimate the movement speed. The measurement results showed that the values were not significantly different from those obtained from google earth at the significance level of 0.05. The
data was analyzed by excel (t-Test: Two-Sample Assuming Equal Variances).
References
Chantruthai, P., Pansrinual, W., & Jinwan, W.(2017). A study of operating speed on rural highways passing community zone. The
Journal of Industrial Technology, 13(3),14-31.
Doğan, S., Temiz, M. S., & Külür, S. (2010). Real time speed estimation of moving vehicles from side view images from an uncalibrated
video camera. Sensors, 10(5), 4805-4824. doi:10.3390/s100504805
Han, I. (2016). Car speed estimation based on cross-ratio using video data of car-mounted camera (black box). Forensic Science
International, 269, 89-96.doi:10.1016/j.forsciint.2016.11.014
Kim, J. H., Oh, W. T., Choi, J. H., & Park, J. C. (2018). Reliability verification of vehicle speed estimate method in forensic videos. Forensic Science International, 287,195-206. doi:10.1016/j.forsciint.2018.04.002
Kornprasert, N. (2017). A study of planning and implementation of automatic speed detection system in Thailand. Thai Rhodes Foundation Office of the Health Promotion Fund.
Rad, A. G., Dehghani, A., & Karim, M. R. (2010).Vehicle speed detection in video image sequences using CVS method. International
Journal of Physical Sciences, 5(17), 2555-2563.
Saisuksaard, C., & Kronprasert, N. (2018). Performance evaluation of automatic speed enforcement camera on mountainous road.
Engineering Journal Chiang Mai University,25(1), 189-202.
Shukla, D., & Patel, E. (2013). Speed determination of moving vehicles using Lucas-Kanade algorithm. International
Journal of Computer Applications Technology and Research, 2(1), 32-36.
Thai RSC. (2019). Statistics report receiving notification of car accident victims across the country. Retrieved from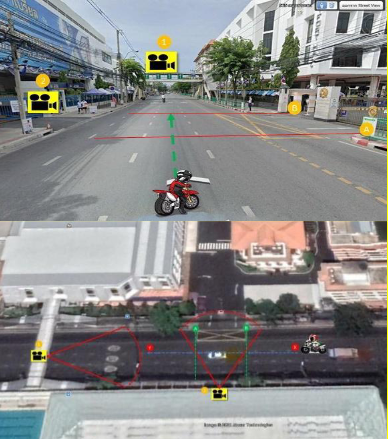 Downloads
How to Cite
Malikong, W. ., Chaychumdee, V. ., Hirannawakun, P. ., Sangwaranatee, N. ., Sangwaranatee, N. ., Mankhong, P. ., & Wattanasiripong, N. . (2022). Motorcycle Speed Calculation while Driving with an Animation from a Smartphone. Suan Sunandha Science and Technology Journal, 10(1), 67–73. https://doi.org/10.53848/ssstj.v10i1.423
Section
Research Articles
License
This work is licensed under a Creative Commons Attribution 4.0 International License.