Ethanolic extract of bran of red sticky rice (Oryza sativa L.) attenuates cellular oxidative stress in human hepatocellular carcinoma cell line (HuH-7 cells)
สารสกัดเอทานอลจากรำข้าวเหนียวแดง (Oryza sativa L.) ลดภาวะ oxidative stress ในเซลล์มะเร็งตับ HuH-7
Keywords:
Red sticky rice bran extract, Oxidative stress, ROS, Glutathione
Abstract
          Oxidative stress is an imbalance event between free radical accumulation and antioxidant levels within the cells. It is the major cause of several chronic diseases. Red sticky rice is the pigmented rice, which being commonly cultivated and consumed in Thailand. Our previous study demonstrated that an extract from red sticky rice bran (RRBE) contains plenty of antioxidant substances. Thus, this research aimed to investigate the effect of RRBE against oxidative stress within the cells. The results showed that RRBE increased the cell survival rate of HuH-7 cells upon insulted with oxidative stress inducer, H2O2. Moreover, RRBE decreased the ROS production while increased glutathione production within the cells. Altogether, our results demonstrated the effect of RRBE against cellular oxidative stress proven its potential use as antioxidant supplement.
References
Budreviciute A, Damiati S, Sabir DK, Onder K, Schuller-Goetzburg P, Plakys G, et al. Management and Prevention Strategies for Non-communicable Diseases (NCDs) and Their Risk Factors. Front Public Health. 2020;8:574111.
Rai SS, Syurina EV, Peters RMH, Putri AI, Zweekhorst MBM. Non-Communicable Diseases-Related Stigma: A Mixed-Methods Systematic Review. Int J Environ Res Public Health. 2020 Sep 12;17(18):6657.
Pizzino G, Irrera N, Cucinotta M, Pallio G, Mannino F, Arcoraci V, et al. Oxidative Stress: Harms and Benefits for Human Health. Oxid Med Cell Longev. 2017;2017:8416763.
Sies H, Berndt C, Jones DP. Oxidative Stress. Annu Rev Biochem. 2017 Jun 20;86:715-48.
Wu G, Fang YZ, Yang S, Lupton JR, Turner ND. Glutathione metabolism and its implications for health. J Nutr. 2004 Mar;134(3):489-92.
Lobo V, Patil A, Phatak A, Chandra N. Free radicals, antioxidants and functional foods: Impact on human health. Pharmacogn Rev. 2010 Jul;4(8):118-26.
Omidifar N, Nili-Ahmadabadi A, Nakhostin-Ansari A, Lankarani KB, Moghadami M, Mousavi SM, et al. The modulatory potential of herbal antioxidants against oxidative stress and heavy metal pollution: plants against environmental oxidative stress. Environ Sci Pollut Res Int. 2021 Nov;28(44):61908-18.
Bhat FM, Sommano SR, Riar CS, Seesuriyachan P, Chaiyaso T, Prom-u-Thai C. Status of Bioactive Compounds from Bran of Pigmented Traditional Rice Varieties and Their Scope in Production of Medicinal Food with Nutraceutical Importance. 2020;10(11):1817.
Onsa-Ard A, Thongboontho R, Munkong N, Phromnoi K, Ontawong A, Pengnet S, et al. Anti-Inflammatory Effects of Red Rice Bran Extract Ameliorate Type I Interferon Production via STING Pathway. Foods. 2022 May 30;11(11):1622.
Tenorio M, Graciliano NG, Moura FA, Oliveira ACM, Goulart MOF. N-Acetylcysteine (NAC): Impacts on Human Health. Antioxidants (Basel). 2021 Jun 16;10(6):967.
Surarit W. JC, Lerdvuthisopon N., Kongkham S., Hansakul P. Evaluation of antioxidant activities and phenolic subtype contents of ethanolic bran extracts of Thai pigmented rice varieties through chemical and cellular assays. Int J Food Sci Technol. 2015;50(4):990-8.
Luximon-Ramma A, Bahorun T, Soobrattee MA, Aruoma OI. Antioxidant activities of phenolic, proanthocyanidin, and flavonoid components in extracts of Cassia fistula. J Agric Food Chem. 2002 Aug 28;50(18):5042-7.
Munkong N, Thim-Uam A, Pengnet S, Hansakul P, Somparn N, Naowaboot J, et al. Effects of Red Rice Bran Extract on High-Fat Diet-Induced Obesity and Insulin Resistance in Mice. Prev Nutr Food Sci. 2022 Jun 30;27(2):180-7.
Munkong N, Lonan P, Mueangchang W, Yadyookai N, Kanjoo V, Yoysungnoen B. Red Rice Bran Extract Attenuates Adipogenesis and Inflammation on White Adipose Tissues in High-Fat Diet-Induced Obese Mice. Foods. 2022 Jun 24;11(13):1865.
Saji N, Francis N, Schwarz LJ, Blanchard CL, Santhakumar AB. Rice Bran Phenolic Extracts Modulate Insulin Secretion and Gene Expression Associated with beta-Cell Function. Nutrients. 2020 Jun 24;12(6):1889.
Rungratanawanich W, Memo M, Uberti D. Redox Homeostasis and Natural Dietary Compounds: Focusing on Antioxidants of Rice (Oryza sativa L.). Nutrients. 2018 Nov 1;10(11):1605.
Li H, He H, Wang Z, Cai J, Sun B, Wu Q, et al. Rice protein suppresses ROS generation and stimulates antioxidant gene expression via Nrf2 activation in adult rats. Gene. 2016 Jul 10;585(2):256-64.
Limtrakul P, Yodkeeree S, Pitchakarn P, Punfa W. Anti-inflammatory effects of proanthocyanidin-rich red rice extract via suppression of MAPK, AP-1 and NF-kappaB pathways in Raw 264.7 macrophages. Nutr Res Pract. 2016 Jun;10(3):251-8.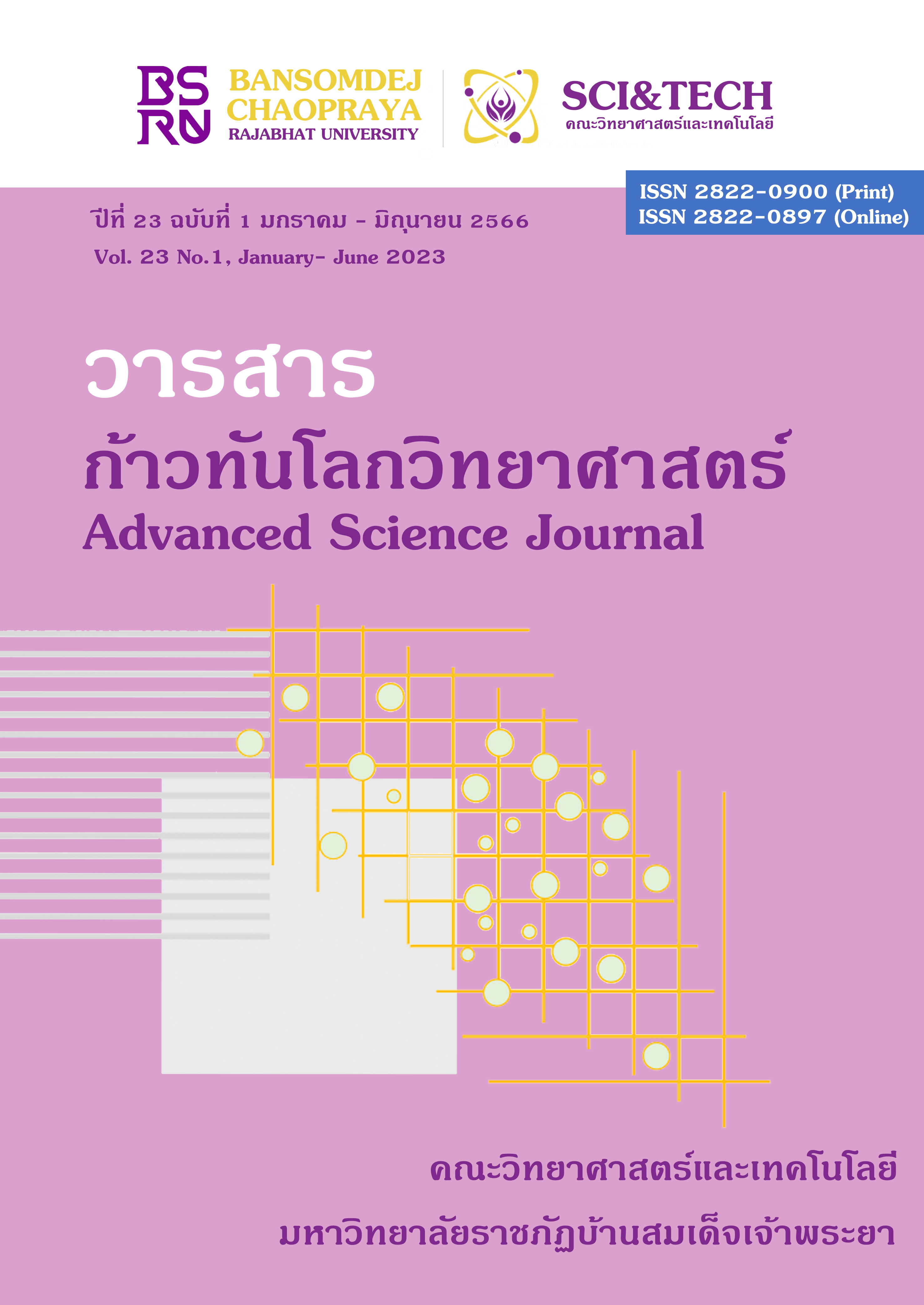 Additional Files
How to Cite
1.
Morchang A, Malakar S, Paojinda P, Munkong N, Vongthoung K. Ethanolic extract of bran of red sticky rice (Oryza sativa L.) attenuates cellular oxidative stress in human hepatocellular carcinoma cell line (HuH-7 cells): สารสกัดเอทานอลจากรำข้าวเหนียวแดง (Oryza sativa L.) ลดภาวะ oxidative stress ในเซลล์มะเร็งตับ HuH-7. AdvSciJ [Internet]. 2023 May 22 [cited 2023 Dec. 2];23(1):R104 - R119. Available from: https://li02.tci-thaijo.org/index.php/adscij/article/view/570
Section
Research Articles
License
Copyright (c) 2023 Advanced Science Journal
This work is licensed under a Creative Commons Attribution-NonCommercial-NoDerivatives 4.0 International License.