Species Diversity of Plankton in Suan Sunandha Rajabhat University, Samut Songkhram Campus
Keywords:
Species diversity, Plankton, Samut Songkhram
Abstract
The study of phytoplankton and zooplankton in Suan Sunandha Rajabhat University, Samut Songkram Campus by collecting the samples following the seasons: the cool season (December, 2012), the hot season (March, 2013) and the rainy season (June, 2013). The plankton samples were collected from 5 stations by using 70 micrometers mesh size of plankton net and examined the water quality.
The results showed that, in total, there are plankton in 48 genera, 77 species which consist of 36 genera, 58 species of the phytoplankton, and 12 genera, 19 species of the zooplankton. The phytoplankton: Class Bacillariophyceae was the dominant
group and the most diverse was the genus Chaetoceros (8 species). The zooplankton: Phylum Sarcomastigophora had the most species diversity and most diverse zooplankton was the genus Ceratium (5 species). The cool season was the season when the greatest species diversity of the plankton could be found and the water temperature average was 27.79 ° C. The pH average was 7.82. The dissolved oxygen average was 6.21 mg/l. The salinity average was 24 ppt. These conditions are the appropriate environment for these living aquatic organisms.
References
Al-Saadi, H. A., Kassim, T. I., Al-Lami, A. A.& Salman, S. K. (2000). Spatial and seasonal variation of phytoplankton populations in the
upper regions of the Euphrates River, Iraq.Limnologica, 30, 83-90.
Ariyadej, C., Tansakul, R., Tansakul, P. & Angsupanich, S. (2004). Phytoplankton diversity and its relationships to the physico-
chemical environment in the Banglang Reservoir, Yala Province. Songklanakarin Journal of Science and Technology, 26(5),595-607.
Arkronrat, W., Oniam, V. & Chuchit, L.(2012). Relationships between water qualities and phytoplankton at coastal Prachuap Khiri
Khan Bay, Prachuap Khiri Khan Province in 2008-2009. Burapha Science Journal, 17, 108-116.
Drillet, G., Frouël, S., Sichlau, M. H., Jepsen,P. M., Højgaard, J. K., Joarder, A. K. & Hansen, B. W. (2011). Status and recommenda-
tions on marine copepod cultivation for use as live feed. Aquaculture, 315, 155-166.
Liu, C., Liu, L. & Shen, H. ( 2010). Seasonal variations of phytoplankton community structure in relation to physico-chemical
factors in Lake Baiyangdian, China. Procedia Environmental Sciences, 2, 1622-1631.
Ministry of Science and Technology. (1994).Standard Surface Water Quality of Thailand.Bangkok: Pollution Control Department.
Teanpisut, K. & Patarajinda, S. (2007). Species diversity of marine planktonic diatoms around Chang Islands, Trat Province. Kasetsart
Journal (Natural Science), 41, 114-124.
Wongrat, L. (1998). Zooplankton. Bangkok:Faculty of Fisheries, Kasetsart University Press. (in Thai).
Wongrat, L. (1999). Phytoplankton. Bangkok:Faculty of Fisheries, Kasetsart University Press. (in Thai).
Wu, N., Schmalz, B. & Fohrer, N. (2011).Distribution of phytoplankton in a German lowland river in relation to environmental
factors. Journal of Plankton Research, 33,807-820.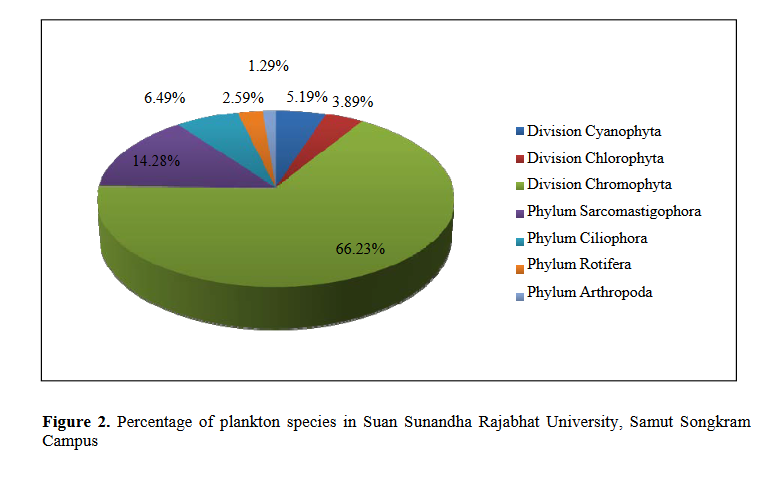 Downloads
How to Cite
Chamchoi, N. ., Meewattana, P. ., Suksawang, G. ., & Thaisri, . P. . (2022). Species Diversity of Plankton in Suan Sunandha Rajabhat University, Samut Songkhram Campus. Suan Sunandha Science and Technology Journal, 2(1), 19–24. Retrieved from https://li02.tci-thaijo.org/index.php/ssstj/article/view/251
Section
Research Articles
License
This work is licensed under a Creative Commons Attribution 4.0 International License.