The Health Effects of Computer Use on Personnel at the Suan Sunandha Rajabhat University
Keywords:
Health effects, Health disorder, Computer-used behavior, Office syndrome, Computer syndrome
Abstract
This survey research aimed to find the health effects of computer use on Suan Sunandha Rajabhat University's personnel. A total of 312 samples were selected out of 1401 population by simple random method. Inferential statistics were used throughout the hypothesis testing and data analysis (percentage, mean and standard deviation). The correlation between risk factors and computer-used behavior were calculated by Pearson correlation and Creamer's V coefficient (95% CI). The results indicated that the samples spend 6-10 hours of the workday on the computer. In order to create a good working environment, the organization has provided good computing facilities. The overview of computer-used behavior suggests that the personnel have regular good practice, i.e. 5-6 times per week. The research result found that the most of personnel have a regular eyestrain, eye fatigue, sore eyes and
irritation symptoms at least 5-6 times per week. In addition, the personnel have regular neck, shoulder, back, waist and wrist pain symptoms at least 3-4 times per week. The result indicated that the computer user's behavior and user's health status relate to each other, and are in the same way. In conclusion, the academic staff requires the basic computer usage knowledge in order to avoid future health problems.
References
Akinbinu, T.R., & Mashalla, Y.J. (2013). Knowledge of computer vision syndrome among computer users in the workplace in Abuja, Nigeria. Journal of Physiology and Pathophysiology, 4(4), 58-63.
Anusit, T. (2015). Office syndrome status in judiciary.Bangkok: Judicial training institute. (in Thai).
Department of Health, Ministry of Public Health. (2014). The health of those working with computers. Nonthaburi: Ministry of Public Health. (in Thai).
Ellahi, A., Khalil, M. S., & Akram, F. (2011). Computer users at risk: Health disorders associated with prolonged computer use. Journal of Business Management and Economics, 2(4), 171-182.
Manop, P. (2014). Silent from PC: learn to use not to sick.Bangkok: Amarin Printing.
Sudao, L. (2015). Break time: Main factor in prevent health problem of computer user. Retrieved June 20, 2015 from
http://www.healthsci.stou.ac.th.
Yamane, T. (1973). Statistics: an introductory analysis.New York: Harper & Row.
Zheng, Y., Liang, H., Hao, C., & Fan, L. (2007). Computer vision syndrome: a widely spreading but largely unknown epidemic among computer users. Computers in Human Behavior, 24, 2026-2042.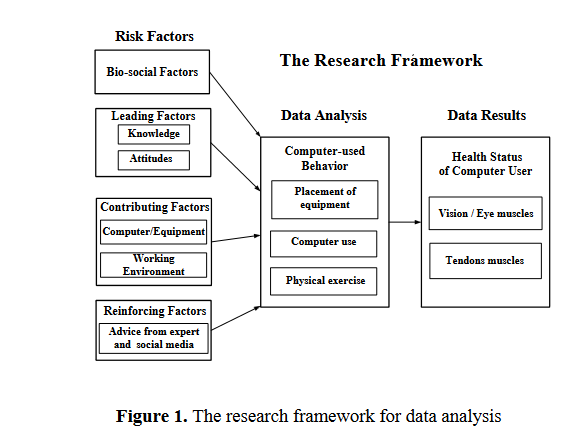 Downloads
How to Cite
Vichivanives, R. ., & Mekwimon , W. . (2022). The Health Effects of Computer Use on Personnel at the Suan Sunandha Rajabhat University. Suan Sunandha Science and Technology Journal, 2(2), 13–17. Retrieved from https://li02.tci-thaijo.org/index.php/ssstj/article/view/257
Section
Research Articles
License
This work is licensed under a Creative Commons Attribution 4.0 International License.